~ If you wish to earn more money, Enhance relationships
solve problems or forward a business activity
or other venture, I can help you do so ~
17,500 clearings and counting
Recent Testimonials
I Want The Same For Each One Of You!
I have been blessed to create a magnificent new life in Arizona! As many of you know I went through some serious health issues and found healing in Arizona. This is so often how healing comes but it is very important to flow with any challenge without resistance. The gifts are contained within the challenge.
I continue to keep myself clear, my home clear and my business clear, and dear Lord, my life and relationships clear!
Jim and I met almost two years ago and we've created a magnificent life in Arizona! He is 66 and I am 71! It can happen anytime! Anywhere! He was behind me in line at OfficeMax !! And that's how the connection manifested!
Beautiful house, beautiful relationship, lots of new friends, hiking and healing is just the start! We keep clear…So that any negative energy from business dealings or from other people's troubles do not contaminate our lives.
When we are clear, we are able to express our true divine purpose and the truth of our expression–and manifest like crazy! You are able to do the same when you're clear!
I believe that with all my heart!
I want the same for each one of you!
Alexis Summerfield,
Sedona, Arizona
~~~~~~~~~~~~~~
Astounding To See Such A Clear And Distinct Turnaround!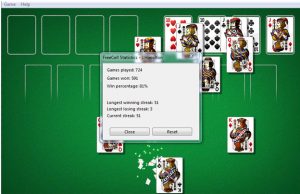 As an author, consultant and coach, I have multiple tools to teach concepts. I have been using an article I wrote almost 20 years titled FreeCell and the Keys to the Universe to offer insights into the state of one's inner nature. I've won as many as 50+ games in a row and I can watch as my mind begins to "nag" that I can't keep this up and a loss is coming. I can see the doubt my mind carries as it interferes with my outcomes.
Alexis and I were travelling by car and stopped at an out of the way gas station and grocery store outside of Flagstaff, Arizona for some ice cream. Long story short, I picked up an entity in the bowels of that small grocery store. And while there are stories of difficultly to report, one of the things I noticed was that my FreeCell game had fallen way off. I couldn't win to save my life, so to speak. I couldn't find moves and solutions and I was on a losing streak of 5 losses in a row (!) when Alexis cleared me. Immediately, my games reversed and I went to a winning streak again! No doubt the clearing had an immediate effect. My energy shifted big time and my outpourings dramatically improved!
It is astounding to see such a clear and distinct turnaround. She says it wasn't me playing the game! While I have documented the results for so many of Alexis' clients, this was quite personal to me and distinct–and "practically" scientific! 🙂
Alexis, thank you for the work you do!
J.Hamilton
Sedona, Arizona
~~~~~~~~~~~~~~
I Am SO Thankful For Your Help!
Thank you for clearing our home back in Illinois that was so difficult to sell! I was not surprised that it was a 14 and needed two clearings! We have some very distinct and difficult memories of that house. We are glad to see it go!
Oddly, yesterday and today (just after the clearings), our oldest son (12) who moved into that house as a newborn of two weeks has been acting calmer, and much nicer than normal. Could the bad energy in the house have attached to him when we were there? Could clearing that house affect him now?
I do not understand enough how all this works, but I am SO thankful for your help!
SA
Northern CA
Alexis' response: And I told her a resounding YES! In my experience anyone who is financially responsible for a property is also energetically connected to it. There had been a tragic loss in the home and clearing that loss released her son from the energetic residue of that suffering.
~~~~~~~~~~~~~~
Absolutely A Dream Come True!
"I had Alexis clear my office and once the clearing was finished I received 5 new transactions AND I received a huge bouquet of flowers from a client that same day!
Ever since the clearing was completed I've experienced nonstop phone calls, clients walking into my office with work…. This is absolutely a dream come true!
It's so unbelievable how quickly the results happened!!
Alexis, thank you so very much!
TS
South Bay, California
~~~~~~~~~~~~~~
Even My Realtor Noticed!
My apologies for not thanking you sooner for the energy work you did both on me and for the sale of my house.
Once on the market the house had multiple offers and sold in one week for 59K over asking!
What was most remarkable for me was the change in my own energy after you cleared me. It seems you lifted a heavy cloud off my shoulders that had been weighing me down for far too long! Even my realtor noticed!
Thank you for your part in helping me to move on!
AL
Northern California
~~~~~~~~~~~~~~
Secret Ingredient For Hiring!
My goal is to be the top producer in the country in my chosen field. I've recently discovered using Alexis' relationship reports to gauge potential hires. Her relationship reports for business relationships have proved to be extremely helpful in the hiring process!
Alexis' relationship reports have now become a key component of my hiring process. Her reports are a "secret ingredient" I use to assess new hires and their compatibility with me and my team goals. Her work is incredibly valuable!
I am amazed at the accuracy and have been proven right every time. Alexis is a "secret ingredient" to success!
AS
Oakland CA
~~~~~~~~~~~~~~
I'm Feeling Light, Positive, Clear, Happy And Very Productive!
I've felt so much better since you cleared me on Friday. I'm feeling light, positive, clear, happy and very productive! Your work speaks for itself!
I would like for you to go ahead and clear my husband. After I told my parents about the clearing I did on their home in preparation to sell it, they have already had improvement! They had two showings this weekend in addition to an open house. They would also like to have themselves cleared!
Wonderful!
HJ
Northern California
~~~~~~~~~~~~~~
Offered A New Job And Higher Position!
"After a personal clearing and house clearing, I was offered a new job and higher position without having to look for it. They offered me almost double my current income and I'll only work 4 days a week out of choice. My new employer said to take a little time off before starting so I can fully close one door and open another.
I'm so grateful to Alexis and the awesome service she provides!"
L.A.
Sedona, AZ
~~~~~~~~~~~~~~
The Property Sold $215K Above Its List Price!
Hello Alexis,
I hope your trip today went well…
I just wanted to give you an update on the two properties you had cleared for me recently….check out these results…
1879 Xxxxxxx St. Livermore-this was the home that was vacant for 10 years and was a probate sale. The condition of the home was so bad you could not live in the home.
We had received 57 cash offers and the property sold $215K above its list price….
32034 Xxxxxx Ct Union City-a little town home that just this last weekend I had over 300 people through and we received 19 offers
and the highest and best offer went $170K above list!!!!!
Unbelievable it is like SUPER CHARGED CLEARING……KEEP IT UP!!!!
Talk to you soon…
Robin Young Realtor
Pleasanton, Calif
~~~~~~~~~~~~~~
My Wife Is Opening Up Her Heart To Me!
With my life in disarray and little to no work for months my wife asked me to move out. Period. And in our first day of counseling she told me about a circumstance from two years earlier. Heartbroken, I attracted Alexis to share her work with me. She cleared extreme heavy energy and other things from my field. She then instilled compassion, cooperation, abundance etc.  Since that clearing I've had people come up to me at Chipotle or Whole Foods (for example), ask about me and listen as I share my work (Body Magic) with them.
Just today I was adjusting a new client at the park and three people asked if they could slide onto my table to get what they saw the other person receive. Also with additional clearings from Alexis, suddenly my wife is opening up her heart to me and sharing her deepest feelings. She now wants to start talking and I am ecstatic. All the while, extreme coincidences are happening in my life as evidence of my newfound clarity and peace. I'm so grateful for Alexis's work.
PS Alexis has offered to share my healing methodology remotely! Stay Tuned!
DMH
Sedona, Arizona
~~~~~~~~~~~~~~
THEN YOU CLEARED HER!!
My daughter seems to have reckless demons and angels.  She is possibly bipolar. She was unhappy with no self confidence. Apathy kept her in bed till the middle of the day. She had some serious traumas as a teenager and was making poor choices as a young adult because of her low self-esteem. This had gone on for years.
THEN YOU CLEARED HER!!
She texted the following: "I feel great!!!!!! Actually  I feel so much better. When did she do it?  I noticed a HUGE difference."
I'll let you know about her progress! Right now the shift is huge for her!
Reno, Nevada
~~~~~~~~~~~~~~
What A Difference you Made In My Life!
[I have been working with Lynne since October 1, 2017]
I wanted you to know that November and December were my best months last year.  I am so grateful for all your help! What a difference you made in my life!
As of last October I have a wonderful relationship and I'm very very happy.!
May love and blessings follow you always!😊.
Lynne Steinert, St Louis
~~~~~~~~~~~~~~
Very Positive Mode of Disbelief!!
My son and I are in the mortgage business and homes rarely stay on the market longer than a week. For some reason when my son listed his San Ramon home, although priced fairly, offers weren't coming in.
My son said he looked up "burning sage" on the internet to help take out bad energy. 🙂
I told him I knew someone…. and we called ALEXIS!  You cleared the home on Sat and again on Monday. On Monday evening an offer came in very close to the asking price with no appraisal and no loan contingency!
We accepted the offer and we were, at that point, in a very positive mode of disbelief!! The results were immediate!
This is TRULY AMAZING! and really shows the power of the work you do!!
Thank you sooo much!
LZ
San Francisco East Bay
~~~~~~~~~~~~~~
Like-Minded People
I just wanted to let you know that things have been going great as of late.  Yes!!!!!! Since the clearing I've been in contact with like-minded people in my business…as if they all are suddenly ready to work together!  It's been great.
Thank you for your help.
Regards,
Jim Dixon
Scottsdale, Arizona
~~~~~~~~~~~~~~
Second Prosperity Clearing!
Ever since Alexis cleared some blockage in my energy field with a second prosperity clearing, all kinds of financial blessings have been pouring in. The unexpected abundance is very welcome and accepted with joyous gratitude. Business has escalated to the wild side while the process became effortless.
Earning more in one week than I have ever earned in any 3 month period has been a welcome reprieve from the "scraping to make ends meet" at the end of every month.
Now, the first week's cash flow exceeds all the income I need to sustain a wonderful standard of living for a month. Because of my new cash flow, I relish the freedom that allows the rest of my month to unfold in grace and synchronicity!
Lots of Love and blessings
JP  Santa Barbara, California
~~~~~~~~~~~~~~
I Find Her Talents To Be Unusual And Distinct
I've had the pleasure of working with Alexis and I find her talents to be unusual and distinct. She has healing abilities in clearing people and property that can be of great assistance to our evolving world and individually. I have hired her for specific projects for which she has done incredible work!
Lynn Andrews
Author of Jaguar woman, Medicine woman and 25 other books
~~~~~~~~~~~~~~
After The Clearing, I Had A Dozen Inquiries
For years I've had trouble getting and keeping tenants in my charming rustic cabin. I was referred to you and am overwhelmingly thankful. After the clearing, I had a dozen inquiries, several applications and picked an amazing tenant.
Not only was I able to easily rent my cabin within 4 days (it has been listed for months), I raised the rent; he loves the property. With a background in construction, he is already planning to improve it by building a storage shed!
Everything I wanted in a tenant has now arrived thanks to Alexis and her clearing. I am now having her clear some areas of my personal life and expect to have the same fabulous results!
RM
North Bay, Calif
~~~~~~~~~~~~~~
Alexis Produced Excellent Results For Our Annual Vedic Conference!
Alexis Summerfield's mastery of Feng Shui has produced excellent results for our annual Vedic Conference attendance as well as attracting amazing staff for our event.. She brought a new level of flow and  synchronicity to putting this event together. She is an excellent  resource!  There was a wonderful difference in the energy of the conference this year!  In Gratitude
Dennis M. Harness, Ph. D.
Sedona Vedic Conference 25th Year!
Sedona, Arizona
~~~~~~~~~~~~~~
I Felt As Clear As A Bell!
Thank you so much! Last night I went out for dinner and I had 2 margaritas but I felt as clear as a bell! I was so energized last night that I didn't go to bed until after midnight which is rare for me. I woke up a couple of times and noticed I had a very distinct peace of mind. No thought streams or monkey mind. It felt so soothing. I want more of THAT for sure! I also received another jewelry order from my account on Kauai today. YAY!
AL
Sedona Arizona
~~~~~~~~~~~~~~
Not Sure What You Are Doing Anymore!!
Hi Alexis
I am beside myself! Not sure what you are doing any more!!
Don't know what button you just pushed but……
1- We have achieved an all-time high on our virtual tour hit for a single property. In seven days we have received 1800+ hits!
2-We have had over 150 people through a two day open house!
3- We have just received our first offer….$220,000 above list!
It is an all-time record for the neighborhood and we don't even have the best schools!
This whole situation is unusual… Historically sales have only given sellers a list price of $25,000 more in this neighborhood… Ever!
Robin Young
Alain Pinel
Pleasanton California
~~~~~~~~~~~~~~
We Now Know What's Right!        
Subject: Realtor newsletter
To: "Carol Xxxxxxxxx"
Date: Tuesday, November 14, 2017, 3:45 PM
I am a realtor in a brand new subdivision in the Southbay. We have six new homes that have been on the market for a month with no offers.  I called Alexis and she cleared the raw land and one of the properties. The one property Alexis cleared sold within three days! We are ecstatic! The developer has now hired Alexis to clear the rest of the homes… We expect them ALL to sell very quickly! Needless to say, we are very excited by the turn of events because instead of wondering "what' wrong," we now know what's right! Thank you Alexis!
PS I contacted Alexis for a similar problem last year on a different project and she again solved our problem! Alexis is very reliable!
CG
South Bay  California
~~~~~~~~~~~~~~
Our House Jumped to #3 from #11 on Zillow In the Last Couple of Days.
Around six years ago we built a beautiful huge French Normandy (country style) house in Saratoga, Calif. It had been on the market for two years when we called you. You did your clearing of the house and told me that it would sell around April which it did! You also cleared the new Coldwell Banker office in Los Gatos, Calif. that I had the pleasure of working at as a realtor associate.
We moved to Greenwood Village, Colorado near where my son got a position after his post doc in Molecular Biology.  We moved to be close to him but bought a house that is 9,200 sq. ft.  Beautiful but too big!!  We put it up for sale about a year and a half ago, but it has not sold. People come through and tell me how beautiful it is. Last month we had two couples that wanted it but have not heard from them since. So, I decided to call you for a clearing. 10/23
!  I get an update every night on Zillow regarding how many people have been viewing and saving our listing and it jumped to #3 from #11 on Zillow in the last couple of days!  I have not changed anything on MLS so I know that the clearing is working!! 10/31
SB
Colorado
~~~~~~~~~~~~~~
..has become the love of my life!
Hi Alexis,
I just wanted to give you an update after doing the "Relationship Clearing"  and to THANK YOU so very much!!  The man I told you about a few months ago, a retired naval officer and widower has become the love of my life!
I just returned from spending three weeks with him in Germany and it was like the honeymoon I've never had.  We are planning to move in together up at his home on the Russian River.
I still have the pink crystal hanging and two pink flowers in the room.  I've been alone for for 25 years and my prince finally showed up.  Thank you, thank you!
Hope all is well with you
Love,
AP
San Francisco Bay Area
~~~~~~~~~~~~~~
Mmwwaa!
Thanks Alexis!  This has been so crazy!  I really need to learn more about Feng Shui.  God help the people who don't have you as a resource!!  Mmwwaa!
LS
Realtor  St Louis MO
~~~~~~~~~~~~~~
A Few Days After My Prosperity Clearing:
I won the lottery… $1200!
Four days later I got an unexpected $7000 from the network company I work for that had been held back for several months.
And then I received another $6700 from the same company.
A total of $15,000 came in within 2 to 3 weeks after the prosperity clearing!
A month later another unexpected $4000 came in….
After the Prosperity Clearing, my financial faucet unexpectedly turned on in a very powerful way!
JP
Santa Barbara, California
~~~~~~~~~~~~~~
I Can Breathe!
Hi Alexis! I just wanted you to know I can breathe for the first time EVER after the clearing around my business. It's been 8 yrs of stress and overload!  Thank You!   ❤❤❤   ❤❤❤   ❤❤❤
Denise W
San Francisco
~~~~~~~~~~~~~~
We Are In Escrow Now..
We are in escrow now and going through the process! Thank you SO MUCH  for your help!!! I truly believe your clearings were a HUGE part of helping us get the property of our dreams! 🙂
Denise W
San Francisco
~~~~~~~~~~~~~~
Thanks! 
It was great talking to you, and both Deb and I appreciate tremendously everything that you did. It's wonderful! Yes I want to do the other clearing as well, upon your advice, for $150. I could feel the difference afterwards.
As soon as we finished, I received 10 job offers on LinkedIn!
Again, thanks!
RP
Santa Rosa, Calif
~~~~~~~~~~~~~
I was in a very difficult situation with the landlord and my house rental. It was draining us in every way and we needed to find a new place to live! When Alexis cleared me everything shifted and there was a dramatic episode that included the fire department and PG&E for which we were immediately moved to a hotel for our safety. I knew immediately that Alexis' work was the SHIFT that broke our ties to the house! I am so grateful because I was unable to solve the problem on my own. I know the universe is behind us now and we will find the perfect place to live! The energetic shift has already happened…!
SL
Danville
~~~~~~~~~~~~~
Thank you so much for the clearing! 
The day after you did the clearing, there was a shift with the IRS issue that has been plaguing me. I was being held responsible for an IRS debt that belonged to my dad. Somehow, from the clearing, the IRS correctly reassigned the responsibility back to him! Right after clearing it came in on my phone! Finally, it is off my back and the appropriate family member is now held responsible for the IRS debt owed.
There was also movement on a loan for the house.
HK
Walnut Creek California
~~~~~~~~~~~~~~
Thank you Alexis! 
I feel so much better after the clearings!  Before the clearings I was overly stressed and tired as it has been difficult trying to keep everything going at the office while dealing with my dad's health issues for 7 months which resulted in his death. I find that I'm able to concentrate better and get things done quicker. The shift in my emotional, mental and physical state is a blessing and a relief!
CB
Walnut Creek CA
~~~~~~~~~~~
Unbelievable!  
I am a long time client of Alexis and I was amazed yet again after the prosperity clearing that she did for me. The day she cleared me I had an appointment with an investor to fund a land development transaction that I have been working on for 2 1/2 years….The meeting went better than expected and that investor is funding the project.
That day as well I got a Million dollar listing referral and another client's offer got accepted.
It was amazing on how things just started to flow and just like the saying…."like a hot knife through butter"….and it hasn't stopped.
I highly recommend doing this prosperity clearing!!!!
Robin Young
Realtor N. Calif.
~~~~~~~~~~~~~~~~~~~~~~~~
Thanks a million for the clearing Alexis! 
I am doing so well it's almost scary. The second class I am offering, beginning on August 8th, is almost full now. I'm off to do my show in Grass Valley at the Theater Festival. I'm really happy. Thanks for clearing me!
Love,
Cynthia
~~~~~~~~~~~~~~~
Thank you for doing the relationship clearing for me! 
As you know I'm looking for the perfect man to come into my life. After you did the clearing I had an experience that was fascinating! I had car trouble and a young man rode up on his motorcycle and offered to assist me. Normally I would have insisted that I could do it myself.… But this time, I let him help me (he then rode away). I know the clearing created an opening… a metaphorical preview of what is to come!
Curiously, the "activator" in my Feng Shui relationship corner is a couple on motorcycles!  I needed to be willing to allow a man to come in my life…!
I believe he's coming now! Stay tuned!!
HG
San Francisco
~~~~~~~~~
Our Couch Surfer Finally Moved Out
I felt like a weight lifted after having my whole household, including the house, cleared! Not only was the house energetically cleared, but our couch surfer finally moved out soon after the clearing. I had a party at my house a week ago and several people commented how welcoming my house felt.
Blessings,
Cathren
Santa Barbara
~~~~~~~~~
I See The Sparkle In His Eyes Again!
I am AMAZED at the LIFT that I see in my fiancé since you cleared him! The extreme heaviness just went away!! I see the sparkle in his eyes again! His eyes looked dull for about a month after he was laid off. He seemed to go downhill and I didn't recognize him anymore and now I have him back! Thank you so much!
NS
Arkansas
~~~~~~~~~~~~~~~~~~
10 Years of Migraines Gone!
Alexis Summerfield's Clearings have literally given me my life back. After 10 years of suffering from upwards of 15 completely disabling migraines a month (Chronic Migraine Disease) with hospitalization, therapies, etc., I was perpetually exhausted, afraid of the next episode and felt toxic. I was in need of some serious help.
When I met Alexis, we had hope that her clearings would help. I had tried all Western medicines and therapies and they did not work.
I have not had even a twinge of a headache since she performed two Clearings on me about 30 days ago. I received a personal clearing and had the house cleared. Sweet relief! I have more energy and I am taking less medication. I feel like I have my life back (after 10 years). I feel free of disease, worry and fear. I feel like this is my chance to make a full recovery!
Words do not describe the appreciation and thankfulness that I have for Alexis.
Thank you so much!
With gratitude
Kimberly F.
Sedona
Comments from several of the first Coherence and Prosperity Clearings
I can't even tell you all of the things that have happened since my Prosperity Clearing. I can't even speak it because there are so many things.. Some are financial and some are just deeper connections to the mystery of my own passion
K.A.
Santa Barbara, California early May
~~~~~~~~~~~~~~~~~~
Offered To Settle The Total Balance For $1000.00
Another.. (slightly abbreviated) on May 30:
Alexis,
You did the clearing on Tuesday May 16th. On Wednesday, May 17th I was having lunch with a friend when I received a phone call from the attorney who was representing me in an offer in compromise with the California Board of Equalization. The BOE agreed to settle a $42,000 obligation for $1000.00
A week later I received a call from the attorney who represented me in my 6 years of audits with the federal IRS. I paid him over $250k over 8 years. I had a balance of $80k on which I have been paying $100.00 a month for the past two years. He offered to settle the total balance for $1000.00.
Amazing!
Energy is moving in my business with several initiatives opening up and crisis retreating.
Thank you so much for your assistance! I have referred you to several good friends who I am sure will be in touch shortly.
Warmly
(name withheld)
Southern California
~~~~~~~~~~~~~~~~~~
And Another..
Hi Alexis, I have had so many positive things happen since my Prosperity Clearing, possible speaking gigs and people joining my class, a woman called for a private writing session and performance coaching, the editor of the Independent Newspaper has asked me to write a column for the paper – all in the last 16 hours. Yes, please clear me again. I'm wondering if my son has them too.
Thanks again, Alexis. I don't know how I was able to walk around.
CW,
Southern CA
~~~~~~~~~~~~~~~~~~
Just one more.. (all in the last month or so)
I had the most wonderful experience with Alexis and her clearings! I have increased my business by 10% all in referrals! My business is easier than it has ever been before. The day after my last clearing several new clients just walked in the door. The energy and flow in my office is spectacular. I highly recommend Alexis and all her services.
SR
Insurance Agency
Scottsdale, Arizona
~~~~~~~~~~~~~~~~~~
"..like a hot knife through butter…"
Unbelievable….I am a long time client of Alexis and I was amazed yet again after the Prosperity Clearing she did for me. The day  she cleared me I had an appointment with an investor to fund a land development transaction that I have been working on for 2 1/2 years….The meeting went better than expected and that investor is funding the project.
That same day I got a Million dollar listing referral and another clients offer got accepted.
It was amazing on how things just started to flow and just like the saying…."like a hot knife through butter"….and it hasn't stopped.
I highly recommend doing this Prosperity Clearing!!!!
Robin Young
Realtor
Northern California
~~~~~~~~~~~~~~~~~~
Hi Ted,
We cleared your listing yesterday. It was a 13 which is extreme. We cleared stress, chaos and fear. The main issue is that there were spirits in the house. That's very unusual for me to find unless I've been specifically hired for that purpose. It's clear now and I think it will make a huge difference!
We instilled peace, harmony, happiness, clarity and positive movement forward. We instilled an immediate sale! We instilled the concept of attracting the perfect buyer for this house.
It was an extra $75 because it was over 10. Please let me know how it goes!
Peace and love
Alexis
~~~~~~~~~~~~~~
Hi Alexis,
Thank you for clearing the home. Figures it would be a 13 on the scale of 10. Where do the spirits come from?
You will be glad to hear, that an hour after I talked to you I showed the home. Those folks ended up writing an offer late last night, and another couple returned today that had visited the home several times, and also put in an offer, so I now have two offers at hand. Hopefully one of them will stick to the end.
I'll keep you posted.
Thanks again!
Ted XXX
Paradise Valley, Arizona
~~~~~~~~~~~~~~~~~~
Just Sold With A Full Price Offer
Alexis –
I thought you would appreciate this, the Stevens Creek home that you cleared just sold with a full price offer and no contingencies 🙂
Keith Xxxxx
Realtor
Saratoga California
~~~~~~~~~~~~~~~~~~
Wow! That Explains What I Felt Tuesday
It was almost like walking into a different office. It seemed much lighter and not so oppressive.
It was easier to focus and there was not so much tension/angst/anger hanging around. I could not put my finger on it, it was just more comfortable. This explains it.
Thank you!!!!!!
KF,
Sedona, Arizona
(She was unaware of the clearing on the office beforehand.)
~~~~~~~~~~~~~~~~~~
Alexis, I wanted to share my most recent experience of your amazing talent!
There was an estate property that had been listed with two different agents over a two-year time frame. I was the third real estate agent, and I immediately called Alexis. I knew I needed help and she was immediately available to clear the property. The sellers listened to me about some minor changes and we sold the property in two weeks! There was a back-up offer if the primary offer fell through! You are a miracle worker!
You offered a family blessing which I decided sounded like a lovely idea. You blessed us all. That same day my daughter and her boyfriend found the property that they had been looking for. They were both shaking, they were so happy. They continue to love their cottage by the river.
I think every property you have cleared for me has sold. Some have taken a few clearings and extra effort but they all sell. Your clearings and blessings have always lead to a happy endings, allowing everyone to move on with their lives.
Thank you for helping me and my clients
LE
Marin County, California Realtor
~~~~~~~~~~~~~~~
All I can say is you are amazing! Thank you so much for doing the clearing for the house we remodeled and then put on the market. We are now in contract with an early close!!
The "all cash" buyers wanted a 10-day close with no contingencies. That's amazing since the house has been on the market for several months. This was our 1st and only offer. I should've called you sooner.
Thank you so much and for all that you do.
WL
Walnut Creek, California
~~~~~~~~~~~~~~~
(July 15 – 16 of 2016)
I requested testimonials from several of my Clients in support of my sudden move from the Bay Area to Scottsdale, Arizona. They poured in—mostly within 12 hours!
(1) Many years ago, perhaps 10 years ago I met Alexis at a gathering to improve my business.
It started with changing the energy in the space I had in Coldwell Banker. And continued as my business grew and grew. She helped me to pick my personal office space in a new building that was constructed in 2009.
That was the beginning of a long, successful relationship.
Alexis has helped me with 15-20 seller's listings a year and 10-20 buyer's purchases per year.
By giving Alexis the basic information she can clear a home or even a person's energy, allowing for a seamless transaction.
I give her phone number out weekly to agents having trouble selling a home or closing an escrow.
She is a Godsend and a talent that I can't do without!
Your business will grow, your clients will thank you and you'll make a lifelong friend in Alexis!
–Michael LoMonaco
Coldwell Banker
Los Gatos, California
(2) I am very pleased to give this testimonial for Alexis Summerfield and boast about her talents as they relate to my real estate practice.  I have been working with Alexis for over 10 years, and she has successfully cleared all of my real estate listings in order for them to sell and sell quickly.  She has a gift in removing the old and oftentimes negative energy in order to clear the path to attract the right buyer at a fair price. Whether it is a buyers' market or a sellers' market, it does not matter.  Her skills and talents are a great help to any Realtor!
–Patti Camras
Coldwell Banker
Orinda, CA
(3) Alexis is great to work with. I have now decided to use her in relation to every sale I, and my clients, are involved in. I recently had a listing that had been on the market for 96 days. We had exhausted every avenue to sell it, to no avail. I contacted Alexis to perform an energy clearing on the property and within a week we received two, all-cash offers on the property.
–Amanda Sharp
Paragon Real Estate Group
San Francisco, CA
(4) When I stepped into the presidency of Double Crown Resources more than 4 years ago… I had never visited or delved into the universe's psychic realm. I can say that it has truly been an eye opening experience and I am a better man and a much better businessman today because of it. You have helped guide our company through the downturn of Oil & Gas and we have survived because of your directives. I consider you much more than a corporate psychic… You are our most valuable consultant and a personal friend for life!
Blessings to you always…
–Allen Lopez
Double Crown Resources Inc.
Houston, Texas
(5) Alexis Summerfield's talent and knowledge was life changing for me and I highly recommend her to everyone for improving their business and their personal life!
I have known Alexis for the last 15 years and there is not a day that goes by that I will forget the impact of her work in my life well as my family.
–Fariba Zolsnar
VP, Asst County Manager
Old Republic Title
Marin, CA
(6) Alexis has infinite power in being able to create energy and turn it into a resourceful power for you. With her amazing power she has changed my life. I have had great success and a lot of money flows into my life. I am now making 5 times the amount of money I was making before. Any repeated pattern issues in my life have been cleared from my life due to her ability to clear these elements that are held deep within. My success has opened up enormously because of the higher enlightenment of energy she was able to open and bring to productivity.  She is a person you need every month to make your next month better. Once a month I rely on her to clear pathways and my business grows stronger. It truly works! She is a fortress of power!
–Loan Agent
High-end Financial Institution
San Jose, CA
(7) I have been working with Alexis for 10 years and I am so glad she is on my team.  With her clearing process I have been able to accomplish more and my listings have outperformed the market, even in down markets. She has made my life more enjoyable and smoother—having the negative energy released from my home, office and myself!
I have experienced the incredible results in my business as have others that have hired her to clear their listings in my office. They were amazed as well!
You will be glad you have incorporated Alexis to your life and business!
–Robin Young,
Alain Pinel Realty
Pleasanton, CA
(8) I have worked with Alexis for 20 years, always with wonderful results. I have had her clear homes prior to purchase as well as post acquisition- both with the desired outcomes. Homes that wouldn't sell sold right away after she worked on them, and she was able to release the trauma of previous owners though both clearings as well as Feng Shui cure placements facilitating the creation of calm and peaceful environments. I have also recommended her to friends who have raved about their experience. Thank you Alexis! –
–Susan from Connecticut
(9) Alexis is worth her weight in gold! I have used Alexis and her services for years both personally and professionally. Time and time again, she never ceases to amaze me with her abilities. Every time I get a business clearing, deals come together. Every time I get my listings cleared, they sell. I have become a true believer in Feng Shui due to the wonderful results of this cherished lady and her well honed craft.
The first time I used her services was on a house that had sold and fallen out of contract three times. I was actually desperate and figured, what do I have to lose. When Alexis started the clearing, she told me what the bad energy in the house was without even knowing any background. She told me the family energy was very bad and was the problem. In this home (which was vacant and staged) there was a bunch of family turmoil and adult siblings battling. Alexis cleared it and told me that I would have it sold in three days. Three days later it was sold and closed a few weeks later. I was a skeptical believer but very curious.
She continued to produce the same results especially on challenging homes and had the same confounding knowledge of the bad energy in each situation.
I swear by her abilities and highly recommend her to anyone with home sales and most definitely with personal clearings.
–Keith Walker,
Intero Real Estate (Berkshire Hathaway),
Saratoga, CA
(10) Alexis is the best! She is amazingly insightful and helpful. We have worked with her for many years and continue to have her help us. She has guided some key decisions in our lives and we are grateful to her. We would recommend her to any person or business.
–Iris Rubin M.D.
Potomac, Maryland
(11) I had a listing that was not selling. Everything about it seems right and yet it wouldn't sell. After Alexis did her magic, my listing had very busy open houses despite the holidays. One offer came in within one week and another back up offer right after. Both buyers fell in love with the house. I highly recommend Alexis!
–Lily
Alain Pinel Realtors
(12) I first hired Alexis to sell a "stuck" listing in San Francisco's Russian Hill neighborhood during our last market downturn in 2009. What she did sounded a little wacky, but I figured it couldn't hurt and we had been on the market for close to two months without selling. After Alexis' clearing and a bit of feng shui, the property sold to the next buyer who saw it. I've since used Alexis on many, many of my listings with a 100% success rate. Last year when my business was down, I took a flyer and asked her to straighten out my own energy. Her work this time included an astrological reading that predicted significant changes ahead.  Within days of her reading, a seismic shift in my personal life happened that not only got my income bouncing back, but cleared up a matter that had been plaguing me for many years. I'm a die-hard cynic about what I call "woo-woo" spiritual practices; Alexis is my one exception. 
–Cece Blase
Paragon Real Estate Group
San Francisco
Top 5% San Francisco Agent Volume Sold
(13) I have been a top agent for many years in the San Francisco Bay Area. Thanks to Alexis's help and advice, my professional career, my listings and clients, and my home space have benefited enormously.  Alexis has a powerful and pleasant personality and is not only easy to talk to but her feedback is always "spot-on!"  Using Alexis's services has helped me tremendously with my success.  Thank you Alexis for everything good you bring to my work and my life!
–Maha D.
Maha Realty Group – Keller Williams
San Francisco South Bay
(14) I am a real estate broker in Southern California and I have had many listings cleared by Alexis in the last four or five years. And without exception, they all sold right away—and I've had multiple offers on many of them.
My Mother had to have a very risky heart surgery and once Alexis cleared her, the surgery, everything went extremely well. I had Alexis clear my sister for her breast cancer. The surgery went very well and she responded extremely well to all medications.
Alexis saved me from a very bad real estate deal. I could have been completely wiped out!
She is my hero.
I love you Alexis for your unshakable integrity.
–Liliana
Irvine CA
(15) I've known Alexis Summerfield for about 10 years now. When we first met and I learned more about what she does, I have to admit that I was quite skeptical. I've met a lot of fly-by-night Feng Shui and woo-woo people in my time. And have even engaged some in service, only to find that their knowledge and abilities were, well…largely non-existent.
After having known Alexis for some time, I was in the process of unsuccessfully attempting to sell my house for the third time in as many years when I was desperate enough to give her a try. Before real estate was in the boom it now is in the Bay Area, I was trying to sell a tiny house on a steep hill with 60 stairs leading up to the front door. I asked for Alexis's help and was a little shocked at how much it would cost me to have her do her thing. With very little faith, I was desperate enough to try her out.  The result: my tough-to-sell house sold for more than $100k over asking with 11 offers after only one week-end of open houses. (We gave back some of that during inspections, but were still happy with the result.) That house may be seen here.
Being a stubborn cynical non-believer, I still wasn't sure that it was Alexis's stuff that made the difference, until we tried buying another house, an unusual vacation rental in Guerneville. We had been having all kinds of issues having our offer accepted on houses we liked, so, again, I decided to try her out. We quickly found an amazing place that far exceeded our expectations; we were the only offer, and we got it under asking in a competitive market. Now I was starting to believe.
Due to the threat of a nasty El Nino winter, we decided to sell 6 months after we bought. We again had all kinds of issues with our attempts to sell, even having a tree fall that blocked all traffic to our house on the day of the open house. So, again, tail between legs, I returned to Alexis. Two weeks later, we got a buyer who paid $75k over what we had bought the house only a few months earlier. That house may be seen here.
Now I'm a believer. My wife and I have since sold another home with her help for almost twice our purchase price from a few years earlier (see it here), and I'm now getting her help selling my medical practice and having her help us with a move to Europe. Needless to say at this point, I highly recommend her, she's saved our asses repeatedly, and I am a believer!
–Jason L.
Oakland, CA
(soon Spain, EU)
(16) I just wanted to follow up on energy clearing you did on our home a few months ago. We had the mold issue which is why I reached out to you in the first in place and once you did the clearing, we found an amazing contractor (the main guy's name was Angel in fact) who did our remodel at cost and greatly helped us construct a safe space for our family.
We were able to reach a settlement with the previous sellers and real estate agents to help with a partial amount of the debt that we incurred from having to rip out the entire kitchen.
We are still working on the home to make it a safe and healthy space for our daughter (and our baby on the way), but as you stated in your emails, the home now feels like a welcoming space and each challenge we find ourselves in when it comes to the home, we seem to be presented with a solution.  I don't think this would have been possible without your help from the very start.
Neighbors had told us that the previous owners had gone through a heartbreaking divorce due to an affair, which makes the fear energy you cleared make sense.  Our home is now filled with love!
Thank you again so very much for this service.  I tell everyone I can about the benefits of it.
With Much Gratitude,
–Tiffany O'Malley
Marin County, California
All of this work is done remotely. Distance is not an issue.
I've always worked with the above clients
at a distance and continue to do so.
I can work with you too!
~ If you wish to earn more money,
solve problems or forward a business activity
or other venture, I can help you do so ~

alexissummerfield@sbcglobal.net
925 360-1006 call or text