Be forewarned. Using MMS/CDS is your responsibility and yours alone.
You are responsible for your choices.. I simply publish my experiences.
Nebulizers
Maintenance of our bodies is paramount. We were introduced to nebulizers just days before the corona virus became headlines. We even ordered two nebulizers just before things started flying off the shelves. Curiously, nebulizers are an excllent means of keeping tabs on our respiratory systems. Our intent is to use the nebulizer with colloidal silver and possibly ozonated water as part of the maintenance of our lungs, etc. I find daily use of the nebulizer at my desk for 15min with a mask is excellent for cleaning the nasal passages and sinuses! It is apparent when I miss a day. Water from the $.25 drinking water dispenser machines located in malls, grocery stores, etc., is great!  Do not use chlorinated water!
Dr. Christopher Ging recommended the nebulizer along with his structured water to clear up mucus and phlelm. Mucus produces a stagnant condition in the body for which lots of other problems develop. I've started adding silver and I am researching using ozone water. I think the nebulizer is an incredible system for delivering moisture, oxygen as air and silver into the respiratory system. Use at your own discretion! Do your research!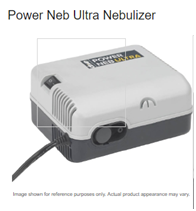 This is the nebulizer we recommend.. https://www.medicalmega.com/product/power-neb-ultra-nebulizer. It shipped very quickly and comes with one mouth breathing tube and originally sold for $25 plus shipping which was very inexpensive. I see it has gone up to $35. But these guys are on the ball and ship very quickly. I originally ordered a nebulizer from iRemedy and they were terrible each and every way!
Here's the same thing with two breathing tubes.. and still at the old price of $25+  https://www.medicalmega.com/product/powerneb-ultra-nebulizer
We also own a Dynarex Elite Compressor Nebulizer 5605 but ordered it from iRemedy. iRemedy was disorganized even before things got busy. We had no issue in Arizona ordering without a Drs note or prescription. The Dynarex can be ordered from a number of companies.
You can order more breathing tubes by doing a search at https://www.medicalmega.com/search/nebulizer and choosing mouth or mask.. We have both though Dr Ging recommended the mouth breathing system. I've now used the mask and like it. It is more of a nasal treatment. I would own both. Overall, the whole thing is very inexpensive.
Looks like the Italians and probably all medical teams are using respirators to counter the virus. Check out: 'The Martin Shkreli of the pandemic': Company threatens to sue after Italians 3D print $11,000 ventilator piece for $1
This is the only piece that can potentially undermine the quality of the mist. I assume it can be cleaned with white vinegar though I see few remarks about cleaning the atomizer. We don't know for sure so I ordered 20 (way overkill I assume) at $1.16 ea. Adding this little component is inexpensive when shipped with the Power nebulizer, i.e., a single shipping cost.. Note: different atomizers fit different masks/ different mouth pieces, etc.
All of the above is found at medicalmega.com. Search "Nebulizer" at https://www.medicalmega.com/
.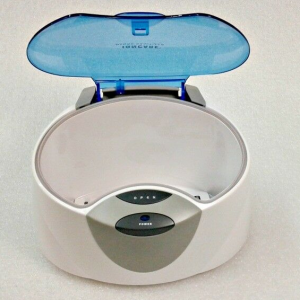 We are also using the Ion Ozone Sanitizer to clean the nebulizer parts and hoses. We have used this little product in the past and believe it is an excellent source for sanitizing the mouth pieces, etc. I can only find it on eBay and can be ordered here. Great price at $29 plus shipping.
Overall, we want to give our immune system its best chance at success by lowering the pathogen load on the body. Colloidal/ Nano silver (local Sedona access and otherwise recommended) is excellent. We are still researching using ozone water with the nebulizer but expect it to be a great delivery system. [Research Notes article: Colloidal Silver vs. Nano Silver]
After all, the lungs are made up of millions of alveoli which dramatically increase the surface area of the lungs as it relates to the exchange of oxygen and carbon dioxide. Seems to me to be an interesting point to introduce certain substances to the body and blood. I suspect shallow breathing and a lack of exercise cause the alveoli to collapse and become less efficient. I suspect deep breathing with the nebulizer along with non-chlorinated/ pure/ sterilized water and nano silver can be useful.. Be sure to understand what you are doing with the silver, etc. But it is not toxic.