Vaccine Controversies, Robert F. Kennedy Jr., Etc
–© 2020 J.Hamilton COREresonance.com
By J.Hamilton
Note: Be sure to scroll down this page!
While vaccinations are a controversial subject, there is a great deal of information that has come to light recently that makes vaccines a far more interesting subject. Of the many voices, Robert F Kennedy Jr., named Time magazine's "Heroes for the Planet, speaks eloquently to the subject. In review, Robert F. Kennedy Jr., as a part of the Kennedy family, might be discovered to be one of our truest American hero's of the 21st century on several fronts.
According to Wikipedia, the 2nd most visited Internet webite (run by volunteers vs billionaires) "Robert F Kennedy Jr is an American environmental lawyer and activist, author, and, as of 2020, most notably a vocal anti-vaccinationist." As you come to understand the depth of RFK Jr's commitment to global activism, his knowledge becomes something we can rely on. After all, RFK Jr., says "he has been trying to get mercury out of fish for 37 years!"
Robert F. Kennedy Jr., was part of a team of lawyers who just won several important settlements against Monsanto/ Bayer, the maker of Roundup. The first of which was in August of 2018 ($290 million landmark case) and again in Jun 24, 2020 ($12.1 billion) against agricultural giant Monsanto and its glyphosate-based product "Round-up."
There are several sets of video documentaries in the last several years that paint a picture of massive fraud on the part of the pharmaceutical companies seemingly complicit with the CDC, in part based on massive profits combined with a total exemption of product liability for any injuries from their vaccines. That vaccines are not tested in the first place beyond about 5 days to a very healthy and tiny segment of the population does not bode well for the assumption that 1) vaccines are safe and effective, or 2) that one vaccination is all that is required for a particular disease.
In fact, Robert F. Kennedy Jr., states that people who regularly take seasonal flue shots (vaccinations) are 36 percent more likely to get covid virus. Reference RFK Jr video (edited version) at 42min.
As one interested in my own health from a personal perspective rather than doing what everyone else does because "it's what everybody else is doing," I continue to reach for solutions that serve me. Truth contains a specific feeling and my life is about tracking certain threads of truth.
There are several recent video documentaries series including:
•  Vaccines Revealed by Dr. Patrick Gentempo – 2020 someone who I highly respect for the work he has done on multiple video health documentary series. I find this series to be a bit more polished, so to speak, and
•  The Truth About Vaccines Docu series 2020 (access video series here)
•  There is also a 3-part article series about unbelievable corruption within the CDC (Communicable Disease Center), a subdivision of the Department of Health and Human Services that is astounding. The whole vaccination issue is astounding!
Chronic Corruption Part I: A History of Incompetence, Part 1
Chronic Corruption Part II: How to Exploit a Crisis,Part 2
Chronic Corruption Part III: President Stands Against CDC, Part 3
Robert F. Kennedy, Jr., — Alan Dershowitz Vaccine Debate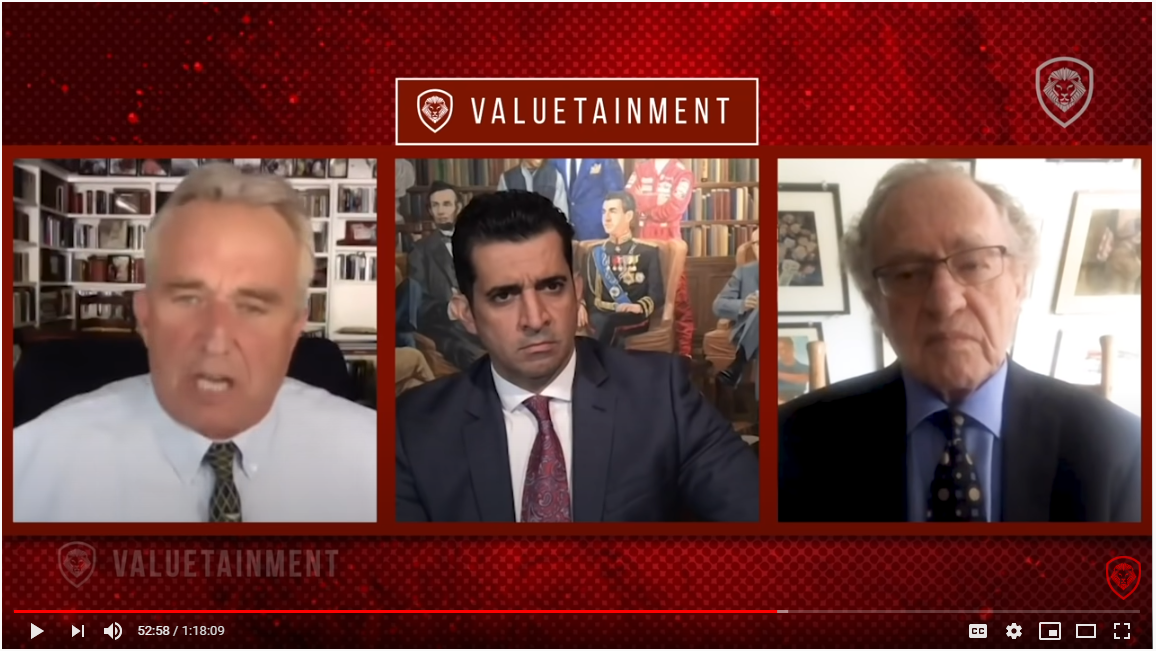 I found the Robert F. Kennedy Jr. — Alan Dershowitz Vaccine Debate to be utterly fascinating.. Mostly because it introduced me to Robert F. Kennedy Jr. who I see as a true American hero. In listening to this debate, I found Alan Dershowitz's remarks to be more about him listening to himself "orate" and mostly taking a "what if" side of the fence.
Because I found Dershowitz so distasteful, I created a version of the video editing out his remarks and giving us a stream of remarks from RFK Jr.

World Doctors Alliance
HEIKO SCHÖNING, M.D. Doctor and co-founder of doctors for enlightenment, Member of the WDA & ACU2020 from Germany Aus Deutschland, Gründungsmitglied der ÄRZTE-FÜR-AUFKLÄRUNG; WDA & ACU2020
DR. MOHAMMAD ADIL MB BS. FRCSEd Consultant General Surgeon & Chairman of the WDA from the UK
DR. ELKE DE KLERK General Practitioner & Founder of Doctors for Truth from the Netherlands
DR. MIKAEL NORDFORS Medical Doctor, Author & Political Reformist from Sweden DR. ZAC COX Holistic Dentist & General Secretary for the WDA from the UK
BORIS DRAGIN Physician, Naturopath & Representative of People's Court from Sweden
MARTIN BYRN Human Rights Advocate from Ireland
MONICA HELLEBERG Chairman of People's Court and Core Member of New Earth from Sweden
MADS PALSVIG Founder of JFK21 (Jorden Frihed Kundskab 2021) & Former Investment Banker from Denmark
DAVID KURTEN Member of London Assembly & Standing for Mayor of London 2021 from the UK
DR. MONIQUE JANSSEN Psychologist & Founder of Women for Freedom from Holland
WENDY EKELS Founder of Humanity Unite from the Netherlands
DR. AGATHE DORADO Holistic Doctor of 20 years & 5G Activist from Denmark
FIONA HINE Founder of https://Covileaks.co.uk and Event Organiser of Resist and Act from the UK
DR. MARGARETA GRIESZ-BRISSON Consultant Neurologist from Germany
DR. HEINRICH FIECHTNER Oncologist, Haematologist, Palliative Care Physician and Politician from Germany
PROF. DOLORES CAHILL Professor in Molecular Biology and Immunology & President of the WDA from Ireland
Necessary links: World Doctors Alliance at https://worlddoctorsalliance.com
Heiko Schoening at https://acu2020.org
Martin Byrne at https://lawlibrary.ie
Dolores Cahill at https://irishfreedom.ie
Mads Palsvig at https://JFK21.dk
Filmed in 4K by Oracle Films https://oraclefilms.com
This is a brand new video stating there are 3000 doctors in third world countries very successfully using Chlorine Dioxide (MMS, CDS, etc) to kill Covid. I am a very strong proponent of Chlorine Dioxide (MMS, CDS). Please reference Empowered By Corona for more information. I have no idea who Bob the Plumber is though it appears this is a Christian network of information. I find the testimonials from the doctors to be excellent. Also, there is a broad base of disinformation to discredit Chlorine Dioxide (MMS, CDS) because it will kill almost any/all "bad" bacteria in your body. Bad means anerobic. Anerobic means lives/ thrives in low oxygen environments. I've used MMS three times for a month each and find it very interesting. PS I am not whatsoever a Trump or "Make America Great" per Trump proponent but the information is good.