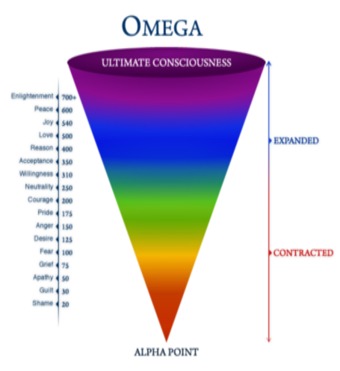 The Map of Consciousness identifies consciousness (on this planet) on a scale of 0 to 1000 with anger, fear, etc., catalyzing the lower end of the scale and Love, Joy and Peace engendering the upper end of the scale with enlightenment at the top.  This map introduces the importance of Courage (at 200) as the break point in the Map and the beginning point in the ascent of consciousness. Courage is that beginning point and catalyst for freedom from the lower realms.
Even more interesting, the Map capably displays levels of consciousness as reflection of resistance. As one is more resistant, they are lower on the scale. As one is more allowing, one is higher on the scale. As we move away from resistance; as we become more allowing, we become more conscious. As we become more conscious (less resistance), more Innate Intelligence naturally expresses through us. After all we, like everything else on and off this planet, are a mechanism by which Innate Intelligence expresses itself through us (for which we get the ride of a lifetime! 
Someone in history once said, "In god, we live and move and have our being.. It is still a true statement.
For additional information
The Map of Consciousness first published in Power vs Force by Dr. David Hawkins
.
Life View
Level
Log
Emotion
Is
Perfect
Complete
Benign
Meaningful
Harmonious
Hopeful
Satisfactory
Feasible
Demanding
Antagonstic
Disappointing
Frightening
Tragic
Hopeless
Evil
Miserable
Enlightenment
Peace
Joy
Love
Reason
Acceptance
Willingness
Neutrality
Courage
Pride
Anger
Desire
Fear
Grief
Apathy
Guilt
Shame
700 – 1000
600
540
500
400
350
310
250
200
175
150
125
100
075
050
030
020
Ineffable
Bliss
Serenity
Reverence
Understanding
Forgiveness
Optimism
Trust
Affirmation
Scorn
Hate
Craving
Anxiety
Regret
Dispair
Blame
Humiliation
Pure Consciousness
Illumination
Transfiguration
Revelation
Abstraction
Transcendence
Intention
Release
Empowerment
Inflation
Agression
Enslavement
Withdrawl
Despondency
Abdiction
Destruction
Elimination
The Map of Consciousness is exponential.
One person at 700 counterbalances 70 million people below 200
One person at 600 counterbalances 10 million people below 200
One person at 500 counterbalances 750,000 below 200

One person at 300 counterbalances 90,000 below 200
One person at 1,000 counterbalances the collective negativity of all mankind
PS According to Dr. Hawkins, Archangel Michael is about 50,000
Power vs Force is highly recommended reading. This information is summarily covered in Visionaries Thrive In All Times Chapter 9, Intent.
Namasté
J.Hamilton