The Map of Consciousness by Dr. David Hawkins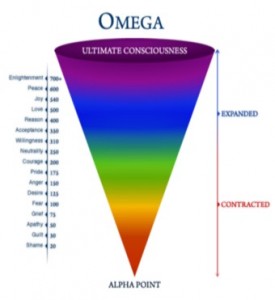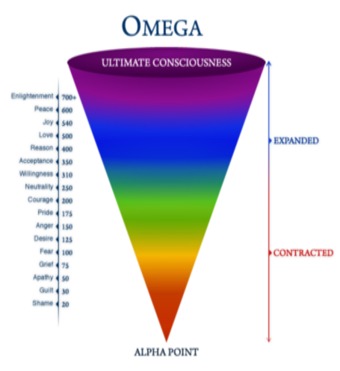 Dr. David Hawkins, MD, Ph.D* spent the last three decades of his life in Arizona working to correlate the seemingly disparate domains of science and spirituality. In 1983, he established the Institute for Spiritual Research, a nonprofit organization dedicated to consciousness research. In 1995, at the age of 68, he received a Ph.D. in Health and Human Services. That same year saw the publication of his book, Power vs. Force, translated into 25 languages, with over a million copies sold and evoking praise from such notables as Mother Teresa and Sam Walton.
The book presents his trademarked "Map of Consciousness" now used by health professionals, university professors, government officials, and business executives worldwide. One of his fundamental concepts was that…
"we change the world not by what we say or do but as a consequence of what we have become." (*)
The Map of Consciousness identifies the fact that the more conscious we become, the more we contribute to the harmony and unfolding of the planet. The Map of Consciousness suggests that advancing human consciousness is the only means by which humans responsibly contribute to the unfolding of our one and only home and extend our capacities as human beings.
Advancing consciousness is also the only means by which we can rectify the damage human beings have wrought in their adolescence as a species. In fact, advancing individual and collective consciousness is the only mechanism worthy of our truest attention.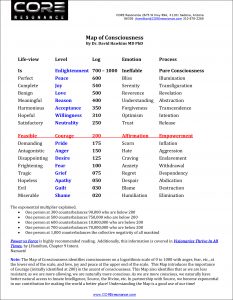 For example, one person at 700 on the Map of Consciousness (admittedly a very high number), counterbalances the negativity of 70 million people below 200. One person at 600 (a potentially readily attainable value through CORE Resonance Training™) counteracts the negativity of 10 million below 200, one person at 500 counteracts the negativity of 750,000 below 200, and so on.
​The Map identifies our priorities as a species, i.e., how we go forward, how we become in-sync with the overall whole, and how we take our rightful place as a conscious and sentient species. CORE Resonance Colonies™ is the ideal incubation environment for such rapid advancement and deployment.
— excerpted from The Twelve Premises of CORE Resonance Colonies: for an enlightened world by J.Hamilton.
*About Dr. David Hawkins:
He was renowned as a physician, author, lecturer, researcher of consciousness, trained as a psychiatrist, and had the largest practice in New York. Dr. Hawkins was the Medical Director of the North Nassau Mental Health Center (1956-1980) and Director of Research at Brunswick Hospital (1968-1979) on Long Island and served as a psychiatric advisor to Catholic, Protestant, and Buddhist monasteries. In 1973, he co-authored Ortho-molecular Psychiatry with Nobel Laureate chemist Linus Pauling, initiating the field of nutrition within psychiatry.
—https://veritaspub.com/dr-hawkins/
Reference an adjoining Map of Consciousness page here.
Namasté
J.Hamilton
---
Beyond resistance lies a world of synchronicity, harmony and order
Said another way, resistance brings us everything we do not want
–J.Hamilton                                nosce te ipsum
                                            tat sannidhau vairatyagah
About J.Hamilton
The Twelve Premises of CORE Resonance Colonies
(Synopsis and free eBook download)

---
Build what's next..
TapRoot™ by CORE Resonance
Intentional Communities and Intentional Corporations
~harnessing the power of coherent groups~
CORE Resonance Colonies™
Problems are of the mind,
Solutions are of the Divine..™
Alignment before Action
each and every day
stay tuned™